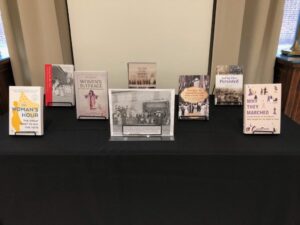 Today, University of South Carolina School of Law and the South Carolina Bar co-hosted The Complex & Courageous Campaign for Women's Suffrage & Parity: 100th Anniversary of 19th Amendment
Professor Maxwell placed the following books in a temporary display for the attendees to peruse.
Click a title below (depicted L-R in the book display photo) to find it in your law library.
The woman's hour : the great fight to win the vote
Weiss, Elaine F.
Victory for the vote : the fight for women's suffrage and the century that followed
Weatherford, Doris
Women's suffrage : the complete guide to the Nineteenth Amendment
Wayne, Tiffany K.
100 years of the Nineteenth Amendment : an appraisal of women's political activism
McCammon, Holly J.
Banaszak, Lee Ann
Alice Paul, the National Woman's Party and the Vote: The First Civil Rights Struggle of the 20th Century
Cahill, Bernadette
And yet they persisted : how American women won the right to vote
Neuman, Johanna
Why they marched : untold stories of the women who fought for the right to vote
Ware, Susan