by guest author Melanie Griffin
The UofSC Law Library extends its usefulness way beyond its physical walls, now more than ever. Here's how to bring our resources to your home base, whether you're still in the middle of distance learning or preparing to come back to campus in August.
Electronic study aids: We know how difficult it is to suddenly have no access to your usual method of studying. But finding an electronic copy of your favorite study aid is easier than you think. Several major law school materials publishers give you access to their study aids online with your law school login. West Academic, for example, also lets you download study aids for offline use and access online case studies for free until June 1. Wolters Kluwer, publisher of popular series such as Examples & Explanations, are giving law students free electronic access to their library of study aids through July 1. And CALI (the Center for Computer-Assisted Legal Instruction) continues to offer free online tutorials in a number of legal subjects with no expiration date. Look through the Course Materials section of our Remote Resources guide to find your old favorites, plus new ways to keep your brain ready.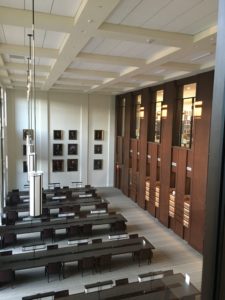 Bring the library to your virtual study groups: If you're feeling restless and lonely without your in-person study partners, set up virtual study times to bring everybody together again. The best part is that video chat services like Google Hangouts, Microsoft Teams, Zoom, and Skype are free and easy to access, plus distance learning has made everyone familiar with them over the last few months. We can't give you your favorite carrel in the basement or lamp in the reading room, but these library Zoom backgrounds come close to the ambiance you're used to.
Law Library Chat service: Our law librarians are as ready as ever to answer your reference questions and guide you to the right resources, bringing their extensive knowledge to wherever you're current set up. Our Law Library Chat is an instant messenger service that's monitored Mondays – Fridays, 9 a.m. – 5 p.m. If you have a question outside those hours, don't fret – you can send an email to lawref@law.sc.edu at any point, and it will get answered during the next set of business hours.
Circuit Riders basic legal research guide: If you know anyone who is looking for help with their own legal issues, point them to our Circuit Riders research guide on basic legal research in South Carolina. We can't give out legal advice, but we can give you and the public information on processes in this state so that you stay informed on your journey through the South Carolina legal system.
COVID-19 remote services: Above all else, we're here to help you through these unusual circumstances with minimal interruption to your law education and information needs. Our research librarians have compiled a complete resource guide to the remote services we're using through our COVID-19 schedule, updated as warranted. Even as our campus is scheduled to re-open for the Fall 2020 semester, UofSC is working with students who won't be able to make the physical trip back for any reason. If you have needs for remote library services this summer or beyond, check this resources guide first to get the most updated information on how we're handling materials and research assistance.