Over the summer, we moved some useful sets of books to the first floor of the law library so they'll be easy to grab for quick reference.
How to Use Forms Books and Practice Aids
Here is an example of how you might use one of these sets, American Jurisprudence Pleading and Practice Forms.
Suppose you are a law clerk in a wills, trusts, and estates practice. Your firm is working with a family to probate a will. A complaint has just been filed, opposing the admission of that will to probate. The lawyer you work for says, "Draft an answer to this complaint. There's no good reason not to probate this will." You've never drafted an answer before. How do you start?
You could look for a form to base your work on. First, you'd go to the Wills volume of American Jurisprudence Pleading and Practice Forms.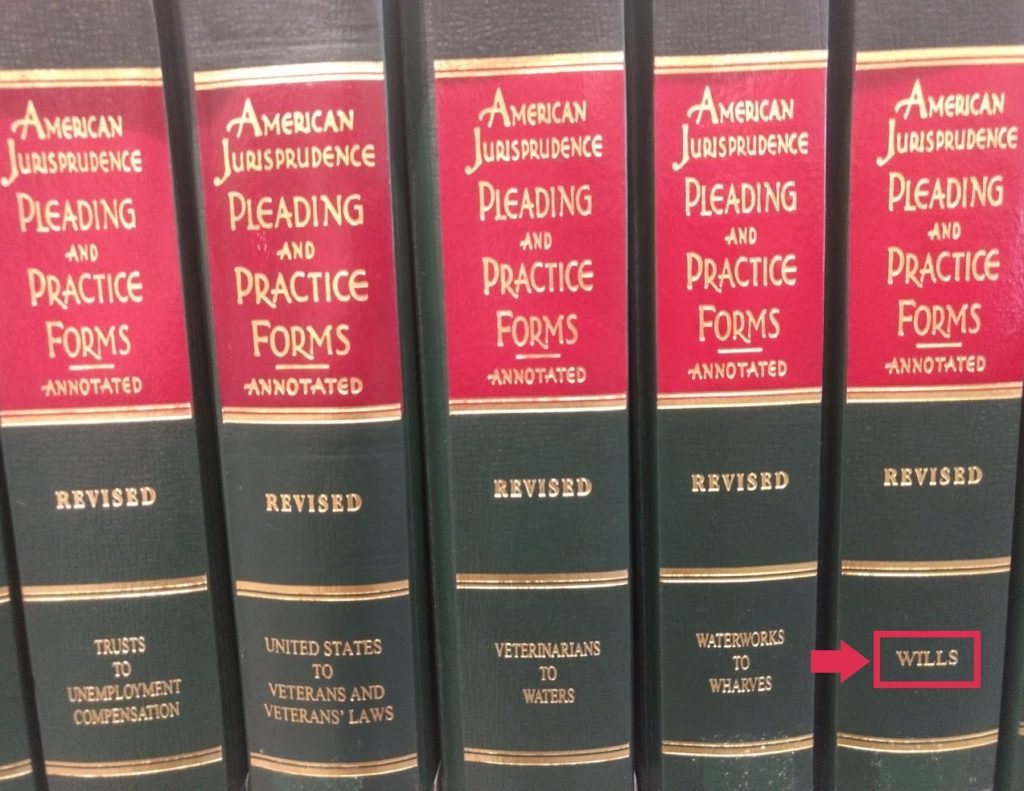 Then you'd browse the table of contents looking for a form that fits your situation. The table of contents is in outline form:
There is opposition to the probate of this will (VIII. Opposition and Contest).
The will has not yet been probated (B. Prior to Probate).
You need to draft an answer that states there is no good reason not to probate the will (§284 Answer—To Opposition to Probate—Failure to State Valid Objection).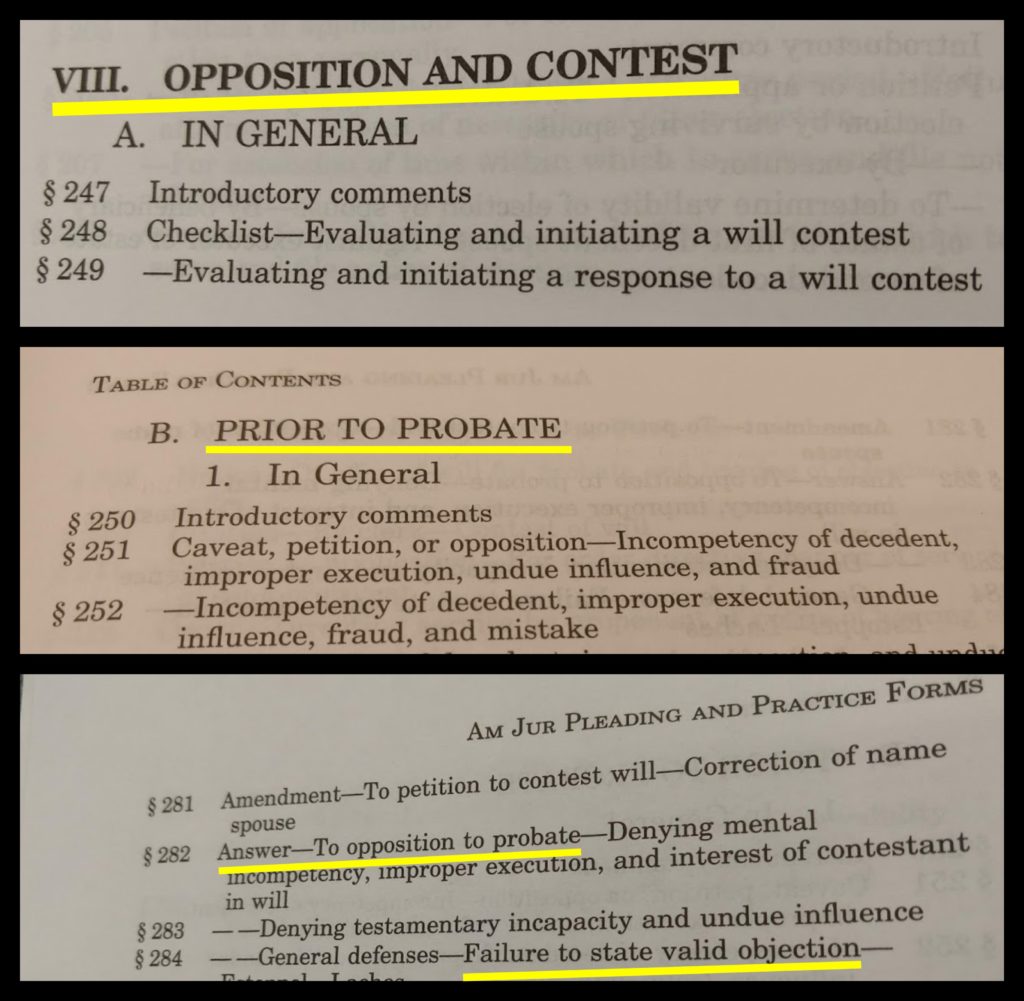 Now you can turn to Section 284 and see a form answer. The form provides a framework or starting point. The brackets and italics indicate that you need to fill in the blank. For example, [Caption, see § 5] means you need to create a caption or heading at the top of your answer, and the instructions for doing that are in Section 5 of the Wills volume. There is still a lot of legal analysis necessary to fill in all the blanks properly. Unfortunately, the book doesn't provide all the answers.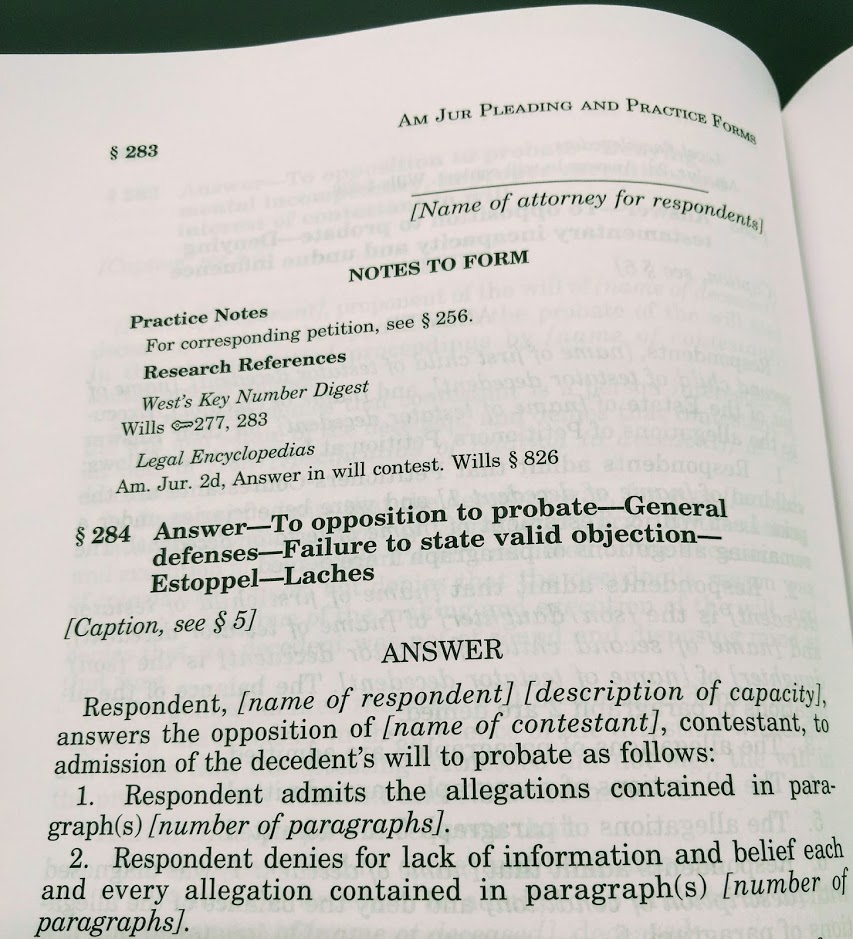 Forms Books and Practice Aids on the First Floor
All the titles we moved are listed below, along with quotes from the publishers' descriptions of each one. If you don't find the type of form you need in one of these sets, you might try a different set. Ask a librarian to help you select which sets to try first.
"Practice-oriented forms for legal and business transactions, exhaustively annotated, keyed to the substantive law, integrating legal and form-drafting principles with statutes, tax notes, tables, checklists, and checkpoints."
"A comprehensive, carefully compiled and edited collection of pleading and practice forms, including jury instructions, keyed to the substantive law in American Jurisprudence 2d and designed to provide dependable forms for all types of pleading and procedural steps in judicial and administrative proceedings."
"Explains how to determine quickly and confidently the facts essential to winning a case, and how to prove them for a wide range of civil litigation and selected criminal defense topics, including: personal injury/torts, employment litigation (discrimination, harassment and wrongful termination), real estate litigation, business torts, and commercial litigation. Also highlights which cases to avoid due to difficulties or failures in proof. Includes strategies and aids that cover every stage of trial preparation."
"An encyclopedic guide to the modern practices, techniques, and tactics used in preparing and trying cases, with model programs for the handling of all types of litigation."
"Provides articles and case studies focusing on different types of actions, including personal injury, products liability, employment, insurance, business, and many others. Each article or case study identifies the various elements of each case, educating you on the litigation issues by offering a substantive law overview. To aid in research, the publication lists each article's coverage and includes an index of key terms and phrases. Readers will also benefit from detailed research and procedure guidelines, as well as a damages awards survey, helping you value cases from various jurisdictions. It also covers legal interpretations of courts through extensive sample cases, and offers practice checklists to ensure all litigation procedures are properly addressed, sample litigation forms to save time in document preparation, a detailed table of cases, and more."
"For drafting forms related to business organizations, divorce, retirement plans, bankruptcy, employment, estate planning, commercial transactions, real estate financing, numerous other general practice areas & specialties. Where appropriate, coverage includes the tax consequences to be considered when drafting specific forms."