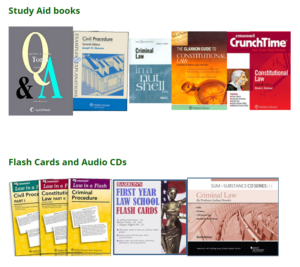 Just in time for the pre-exam crunch, library staff member Amy Persons has created a browse-able guide to the study aids in the law library: http://guides.law.sc.edu/studyaids.
Our current guide only has the required 1L courses listed so far, as well as bar exam study aids. We'll be going back to fill in 2L and 3L course topics soon!
Browse by Series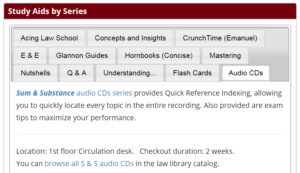 Are you a fan of a particular series of study aids? For example, if Glannon's Torts study aid was helpful last semester, would you want to check and see if Glannon also offers a study aid for Property? If you learned a lot from the Examples & Explanations for Contracts, how about checking out the Examples & Explanations for Civil Procedure? Click the tab for a series to see all the 1L-course study aids offered in that series.
Browse by Topic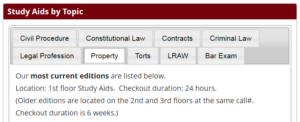 If you want all the study aids you can find for a particular class, click the tab for that course topic to see all the study aids we offer, from whatever series they may be, including standalone guides not part of any series.
What If It's Checked Out?
The current versions of the study aid books are on the 1st floor, in the low shelves under the windows facing the student commons. If the current study aid you want is checked out, you may be able to find an older version on the shelf on the 2nd or 3rd floor of the library. Use the call number you find in our guide.
2nd floor: call numbers beginning with KF1 to KF2940
3rd floor: call numbers beginning with KF2972 to KF9817
Other Formats
Study aids aren't limited to books. Our guide also helps you find flashcards, audio CDs, CALI lessons, and Kanopy streaming video.
Good luck on exams!